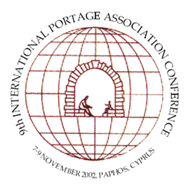 SECOND ANNOUNCEMENT (July 2001)
9th International Portage Association Conference
7-10 November 2002 Paphos, Cyprus
Invitation:
It is our pleasure to invite you to the 9th International Portage Association Conference, to be held at the Coral Beach Hotel, in the city of Paphos, Cyprus, from 7 to 10 of November 2002.
This important gathering of professionals and parents, will offer us the opportunity to be better informed about current developments and allow us to contribute collectively towards shaping the new practices and future trends in early intervention and the model of Portage.
Objective:
The purpose of the Conference is to bring together professionals, parents, advocates and other persons interested in early intervention and the model of Portage, in order to share knowledge, experiences and information and to discuss how families of children with disabilities can be empowered to enrich their children's life, help them start their lives right from birth and take their first steps towards inclusion.
Theme of the Conference:
Start early - Start right - Aim high!
Dates:
7-10 November 2002, (Thursday, Friday, Saturday)
Location:
The Conference will take place in the city of Paphos, the birthplace of Aphrodite, the mythological goddess of love and beauty. A city with a 3000-year history that was declared by UNESCO as a Human Heritage Monument. A place where nature-beauty and culture meet harmoniously.
The Coral Beach is a superb resort hotel, in an idyllic beach front setting, with 500 metres of natural sand, embraced by the clear turquoise waters of the Mediterranean. It is renowned for its unique design, reflecting the local character and respecting the island's environment. Built traditionally with local materials, the hotel offers undisturbed views over the lush landscaped gardens and the beach.
Languages:
English, French and Greek
Topical Areas:
(Related to prevention and early intervention for young children and their families)
Adaptive and Assistive technology

International Approaches for low Birth Weight and premature children

Current and new treatment approaches

Research Findings

Psychological and emotional support

Training for Professionals and Parents
Invited Speakers:
Don Bailey

Patricia Champion

Eurlyaid (member (s))

Prof. Peter Mittler

IPA board members
Conference Participation Fees:
The Conference participation is US $450 (after June 2002, US $500). Please note that Conference fees include a welcoming reception, Conference folder and materials, coffee breaks, all meals, gala dinner, conference's memento and full day's excursion (lunch not included).
Accommodation arrangements are not included and must be booked separately.
Hotel Reservations:
All reservations for hotel accommodation should be made directly with the Conference Secretariat
Special rates have been obtained at:
£40 per night for double occupancy in a Twin/Double, Run of House
£50 per night for single occupancy in a Twin/Double, Run of House
£45 per night for double occupancy in a Twin/Double, Sea View
£53 per night for single occupancy in a Twin/Double, Sea View
£48 per night for double occupancy in a Twin/Double studio
£60 per night for single occupancy in a Twin/Double studio
Please have in mind that only a small number of rooms has been reserved. Reservations will be made on a "first come first served" basis and only for paying participants.
Meals:
All Conference meals will be covered by the participation fee.
Cancellation Policy:
Cancellations before the 1st of September 2002, will incur a 20% administrative charge on the registration fee. Cancellations after the 1st of September 2002, will forfeit the whole registration fee, plus $75 from the hotel reservation deposit.
Poster sessions:
The poster sessions will provide the participants the opportunity to share their views and work and provide information on how Portage is implemented in their country. Please submit a one-page abstract describing your poster presentation and requirements by June 2002.
Sponsors:
Contact Address:
9th IPA Conference Secretariat,
Cyprus Portage Foundation,
P.O Box 20590,
1660 Nicosia,
Cyprus
Tel. 00357 2 481666
Fax. 00357 2 485331
Email: csjfound@spidernet.com.cy
Correspondence:
In case you would like to receive further information on the Conference please complete and return the following: