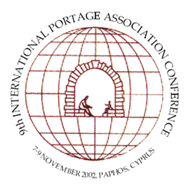 FIRST ANNOUNCEMENT
9th International Portage Association Conference
7-10 November 2002 Paphos, Cyprus.
Invitation:
It is our pleasure to invite you to the 9th International Portage Association Conference, to be held at the Coral Beach Hotel, in the city of Paphos, Cyprus, from 7 to 10 of November 2002.
This important gathering of professionals and parents, will offer us the opportunity to be better informed about current developments and allow us to contribute collectively towards shaping the new practices and future trends in early intervention and the model of Portage.
Objective:
The purpose of the Conference is to bring together professionals, parents, advocates and other persons interested in early intervention and the model of Portage, in order to share knowledge, experiences and information and to discuss how families of children with disabilities can be empowered to enrich their children's life, help them start their lives right from birth and take their first steps towards inclusion.
Theme of the Conference:
Start early - Start right - Aim high!
Dates:
7-10 November 2002, (Thursday, Friday, Saturday)
Location:
The Conference will take place in the city of Paphos, the birthplace of Aphrodite, the mythological goddess of love and beauty. A city with a 3000-year history that was declared by UNESCO as a Human Heritage Monument. A place where nature-beauty and culture meet harmoniously.
The Coral Beach is a superb resort hotel, in an idyllic beach front setting, with 500 metres of natural sand, embraced by the clear turquoise waters of the Mediterranean. It is renowned for its unique design, reflecting the local character and respecting the island's environment. Built traditionally with local materials, the hotel offers undisturbed views over the lush landscaped gardens and the beach.
Languages:
English, French and Greek
Contact Address:
9th IPA Conference Secretariat,
Cyprus Portage Foundation,
P.O Box 20590,
1660 Nicosia,
Cyprus
Tel. 003572481666
Fax. 003572485331
Email: csjfound@spidernet.com.cy
Correspondence:
In case you would like to receive further information on the Conference please complete and return the following: